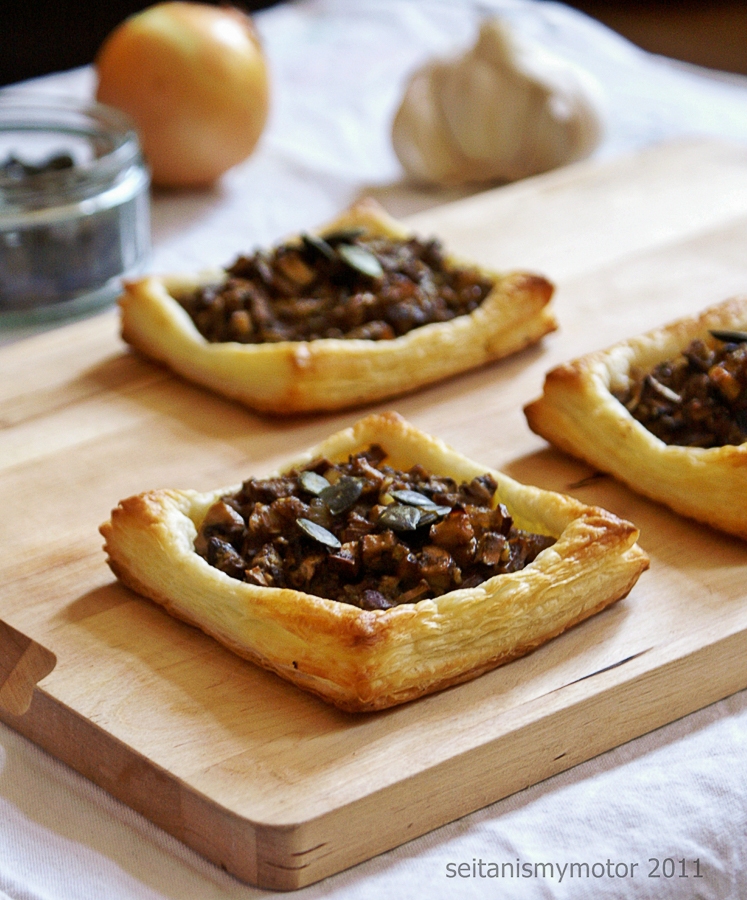 What do you do when you are in a food rut? What do you do when you are in a blog rut? Eat? Cook? Starve? Read a book? I don't know what's wrong with me, but lately I didn't feel very motivated to blog. I felt that it was too much effort to develop a recipe, write it don't take pictures, think up a blog post, etc. This week I didn't cook much and instead was living on sandwiches and smoothies. When I did cook, I tried to keep the recipes as simple as possible and most of my meals were made with the help of a little convenience food here and there.
For example, I made these puff pastry sheets with mushrooms and pumpkin seed cream. (Recipe at the end of this post.)
I am trying to pull myself out of that hole right now by easing into blogging again with the help of other bloggers. There are so many wonderful blogs out there and many take so much time to post their recipes online. There's an awesome giant free cookbook available on the internet and I am almost never using the opportunity to try some of those recipes. Usually I am way to absorbed by my own recipes. This week I looked a bit closer at other blogs and bookmarked some recipes that I would like to try. I started with this really delicious roasted asparagus soup from Fatfree Vegan. I adjusted the recipe a bit by roasting the asparagus with a bit of olive oil. I also added some lemon balm while puréeing the soup as well as some lemon juice and nutritional yeast.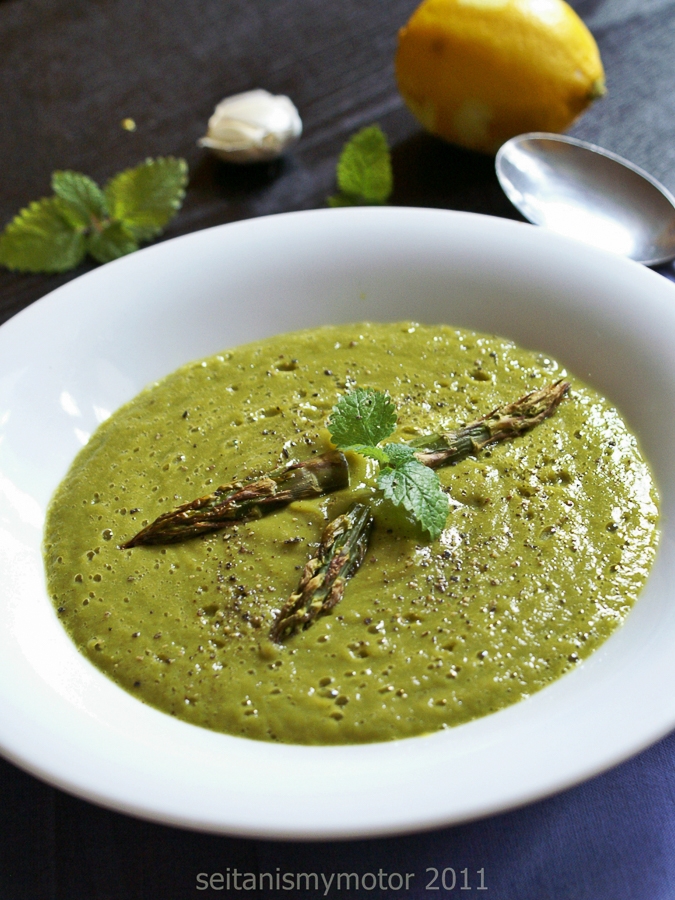 Puff Pastry Sheets with Mushrooms and Pumpkin Seed Cream (makes 4 sheets)
8 10×10 cm (4×4 inch) puff pastry sheets
20 g (2 tablespoons) pumpkin seeds (pepitas)
6 tablespoons water
1 tablespoon olive oil
200 g (2.3 cups whole) crimini mushrooms, diced
1 small onion, diced
1-2 cloves garlic, diced
3 tablespoons nutritional yeast
salt and pepper to taste
Preheat the oven to 200°C (400°F) and line a baking sheet with parchment paper.
In a food processor, blend pumpkin seeds and water until smooth. (You'll probably end up with a few larger pumpkin seed bits in your mixture. That's fine.)
Heat oil in a pan. Fry onion and garlic for 2-3 minutes or until translucent. Add mushrooms and fry for 10 more minutes (medium heat). Pour pumpkin seed mixture into the pan, stir, add nutritional yeast. Stir until smooth. Season with salt and pepper. Set aside.
To prepare the puff pastry, cut square shaped holes into four of the sheets. Place them on the other sheets.
Place 1/4 of mushroom filling in the centre of each sheet. Bake for 10-15 minutes or until golden brown.
Tip: If you don't have pumpkin seeds on hand, use 6 tablespoons of soy cream instead of the pumpkin seed cream.