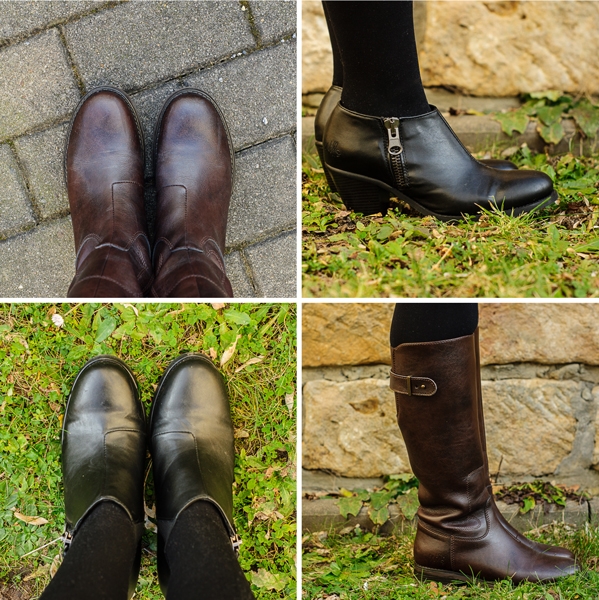 You wanna know what's really difficult about a vegan lifestyle? Finding decent vegan shoes, is my answer. I want a shoe that looks good, is affordable, doesn't fall apart after two weeks, and is ethically made. Until recently it was very difficult for me to find footwear which did fit all those criteria. Sure, there are lots of companies selling vegan shoes. But usually those are too expensive for me or I don't like the model. Or both. In the past I had to make a lot of compromises when it came to shoes. Often these compromises were bad. (I bought shoes that were vegan but not ethically produced, for example.) Last year when I spent another evening searching the internet for new shoe models, I stumbled across Will's Vegan Shoes, a UK based company, that sells both shoes and accessories, such as belts and wallets. I hardly could believe my eyes when I browsed their website because not only did I like the majority of their models, they also weren't too expensive for me. Another great thing is that they ship worldwide and you can return and exchange their shoes for free. The main materials used for these shoes are breathable and water resistant microfibres.
When my shoes arrived they came in white shoe boxes, wrapped in colourful wrapping tissue. The first model I unwrapped were these black Chelsea boots which I've been wearing quite a lot since I got them. Their shape and cut is great, I do love that they are not as slim shaped some other Chelsea boots I tried before. Still, their fit is a bit narrow for my wide feet when worn with thick socks or extra insoles. (But I don't see a fault with the shoes, I have had this problem before and I could have ordered a larger size to compare.) Thankfully the winter has been mild so far and I've been using regular socks without getting cold feet. (And to be honest, during really cold weather I have hiking shoes that will definitely keep me warm.)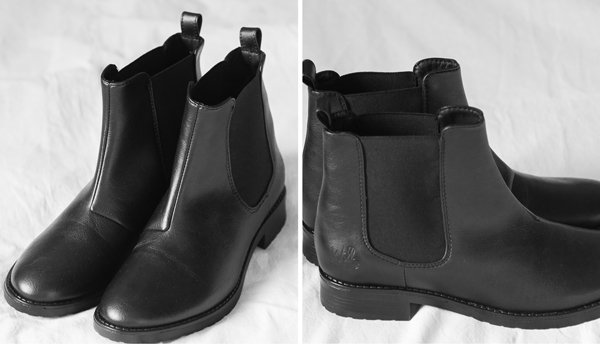 Last winter I found some great knee lenght boots that I had to return after only a couple of months. They started to break apart. (I bought them from a large retail company, I am pretty sure they were not ethically produced and considering their poor quality, they turned out way too expensive.) I was disappointed and sure I could never replace them. But I was wrong. And I cannot tell you how happy I am about this. These brown boots shown above are exactly what I was looking for! When it comes to shape and cut, they are very similar to my Chelsea boots. But instead of side gussets, they have a zipper and an adjustable strap at the the calves. Even though I have the same thick sock problem with them they do fit my calves, which is not a given. Often I cannot squeeze my legs into knee lenght boots. So I am really exited about these shoes.
The third pair I got were black heeled shoes, also shown above. I hardly wear heeled shoes and if I do, I won't last long. If you see someone hobbling and jumping on the sidewalk, that's usually me wearing heels. But not in these shoes. They are very comfortable and have an extra soft and quite thick insole that feels like a cushion. The heel itself is quite broad and supportive. I also think the large zipper on the side is a nice detail.
My review is a bit late (I wanted to actually try these shoes out and wear them a couple of times) and both the heeled shoes and the knee length boots are sold out right now in most sizes, but the company has many new models in stock, which you should check out! I am very pleased with the look and the quality of my choices and they have a good price. (I think paying about 90 – 100 € for a pair of vegan shoes made in the EU is pretty fair.) I had intended to keep two out of three pair. But in the end I kept them all because I think they will last a while. I don't like to buy new stuff each season, I rather have good quality items that last more than one summer, and I think these shoes fit the bill, but I'll keep you updated.
Since I had them shipped to Germany from the UK, I paid 11.48 € for shipping (the fee seems to be dependent on how much your order weighs)  but got a 3.82 € discount, because shipping for the first item was free. (I subscribed to their newsletter and got a voucher.) I purchased all of these shoes with my own money and was not paid or compensated by Will's Vegan Shoes in any way to write this review. I wrote it because I like their products and think this company is worth supporting.
Update April 2016: So far the shoes survived two winters and they are still good!