Today's Vegan MoFo Promt has to be tweaked because I didn't stumble on a new vegan on my way out of the door. (I could probably have ambushed them in one of the vegan restaurants here in our street. But, well.)
So I am not telling you about a new vegan friend I made recently. Instead I am telling you about my new favourite vegan friendly city here in Germany: Hamburg!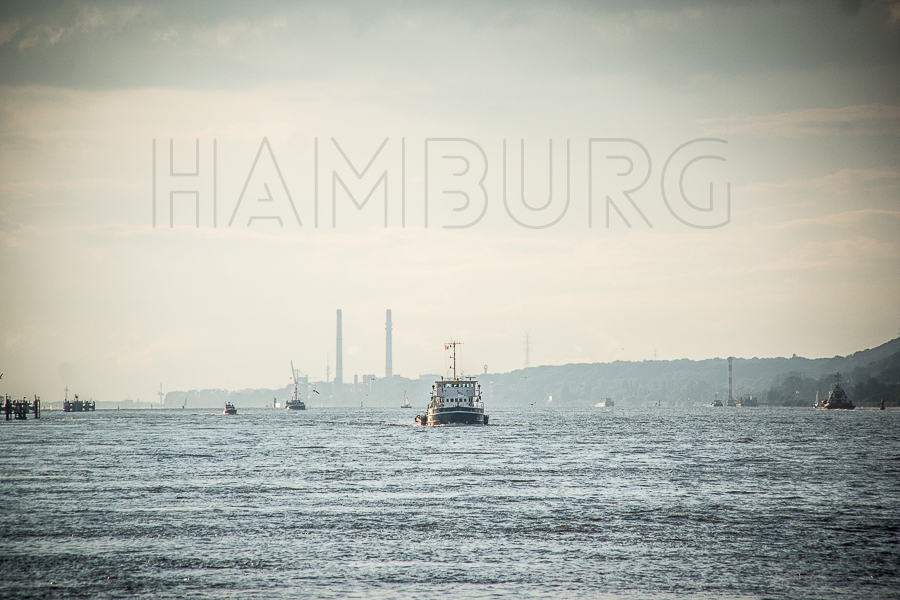 Hamburg is a wonderful city. I've been there a couple of times when I was a kid. We would usually go by car, driving through the long Elbtunnel, which made it extra exiting for us. Especially because there was a traffic jam right in front of it every single time. Now I live finally ive right next to this river, but it's much smaller here, no big ships to watch, and people speak a dialect I am still not used to. Travelling to Hamburg happens rarely. (And if it happens, we have to listen to this German song.) But this year, when we planned our vacation, we thought it would be in order to stop here for a couple of days to visit friends.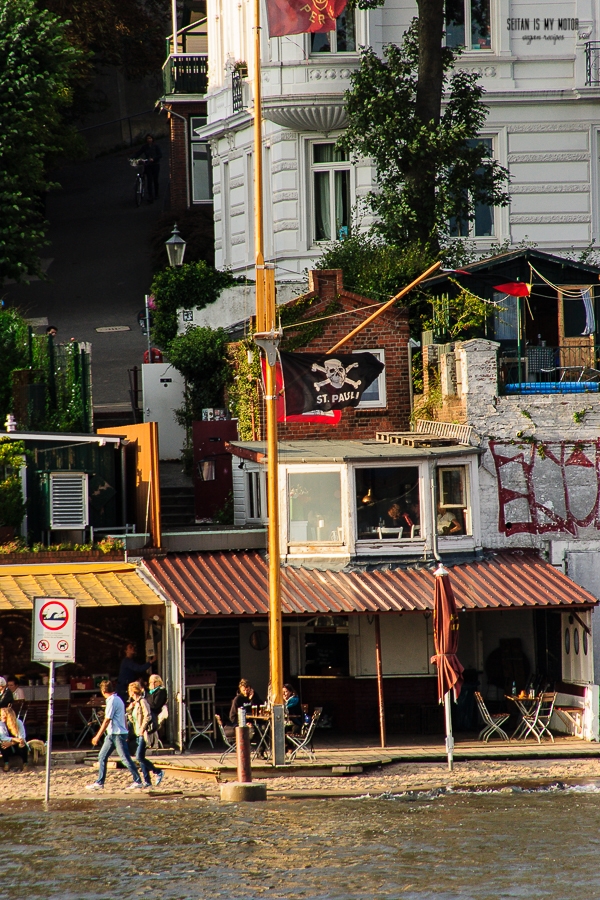 When we were looking for food and restaurants online, it was really hard to choose from an abundance of options. On the day we arrived we drove to a vegetarian restaurant, which seems to have been in Hamburg for 38 years now. (Not under the same name though.) The Tassajara had a daily lunch special plus several other daily specials and a long menu to choose from. Many options were vegan or veganisable and I ordered a seitan dish from the menu. When I asked for the vegan option, they offered to make the green pepper sauce with coconut milk instead of regular cream.
The green pepper sauce was delicious and the seitan had exactly the right texture. I also got a salad on the side. The service at this restaurant was absolutely wonderful, too. Although F was in a super bad mood due to being tired, they were very sweet and tried to make her comfortable as well. And if you successful at making a crabby three year old comfortable, you're good at your job.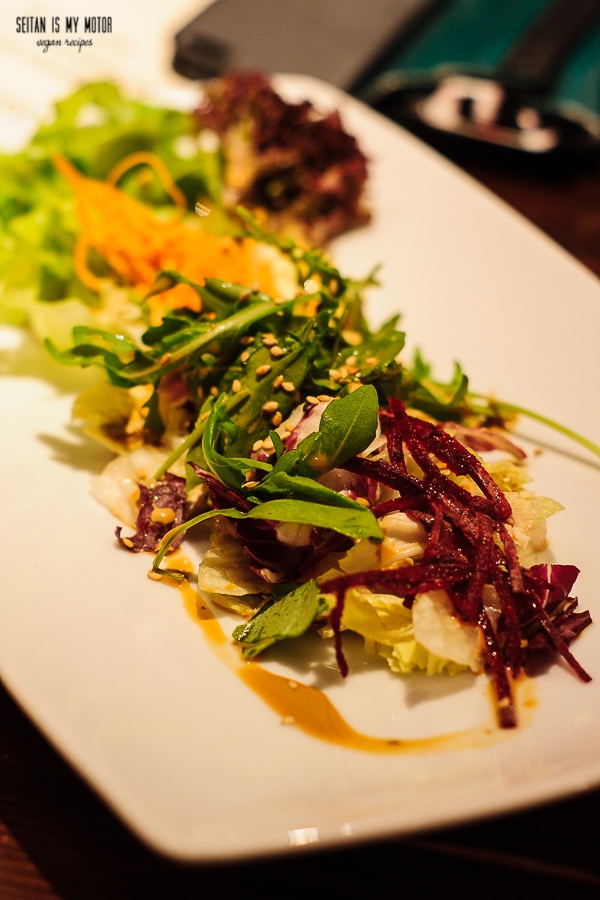 We had rented a flat in the Ottensen neighbourhood and tried to get some reservations at a local vegan restaurant. They had no free tables though and told us to book at least a week in advance. At first I was impressed and thought the place must be fancy. But then a friend, who's been living in Hamburg forever, told us that this is standard procedure in most restaurants. If you want a table, you need to book it early. Since we are absolutely not used to this (We just walk in and sit!) and were only staying for a couple of days, we had to improvise a bit. Instead of eating out for dinner, we tried our luck at lunch. I am happy we did because I got to eat a mindblowing coconut chickpea curry at Veg Out.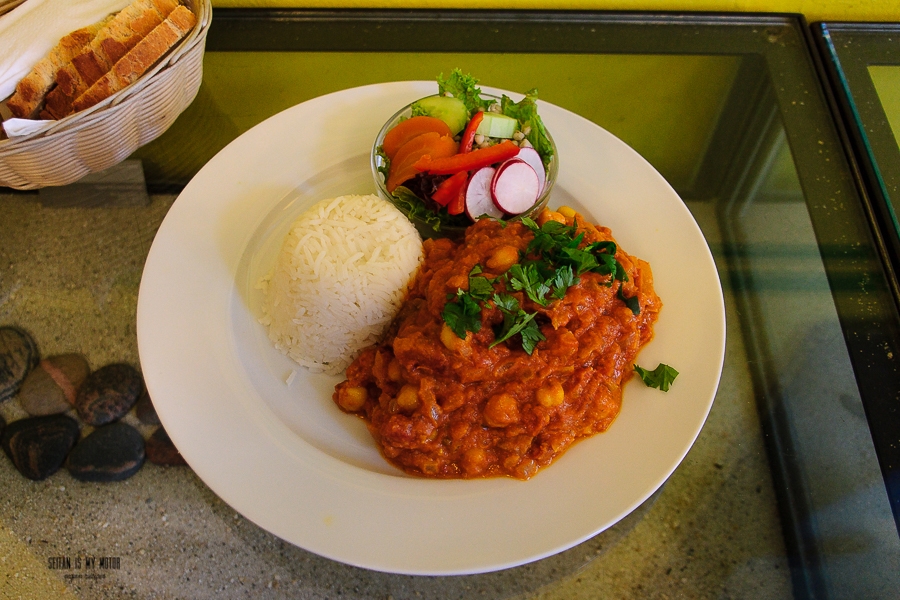 Veg Out is a small vegetarian place in Ottensen. It doesn't have too many seats and it's more like a diner. (The German word for this is Imbiss, which can also be translated as small meal.) The service is fast and I think they mostly cater for people looking for food during their lunch break. Due to the small room it was a bit hectic. But the food was so worth it and the prices were very reasonable. Our food arrived super quick and as I said, my curry was outstanding. Creamy, fruity, and perfectly spiced. I also ordered a lentil soup for F. But of course I forgot to ask if it was hot. And of course it was, at least for F. who cannot tolerate even the tiniest amount of pepper or chili. I liked the soup, although there was a bit too much of curcuma in it. We ended up sharing it all together and left the restaurant pretty stuffed.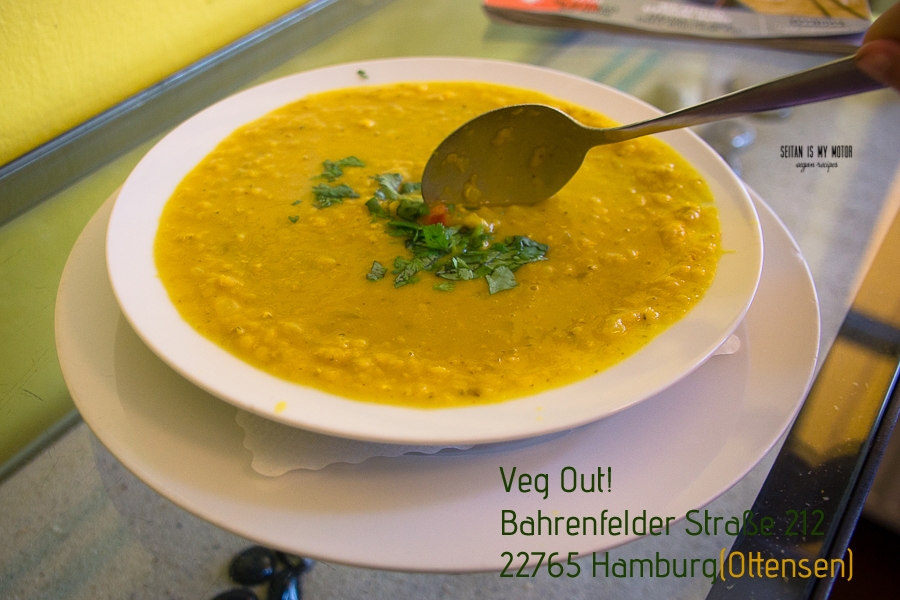 Then we wandered around the neighbourhood and found a cute candy shop. They were making candy right at the counter when we entered, which, of course, was our death sentence. We had to buy some! (Bonscheladen means candy store. Bonsche(n) is Northern German/Lower German for hard candy.)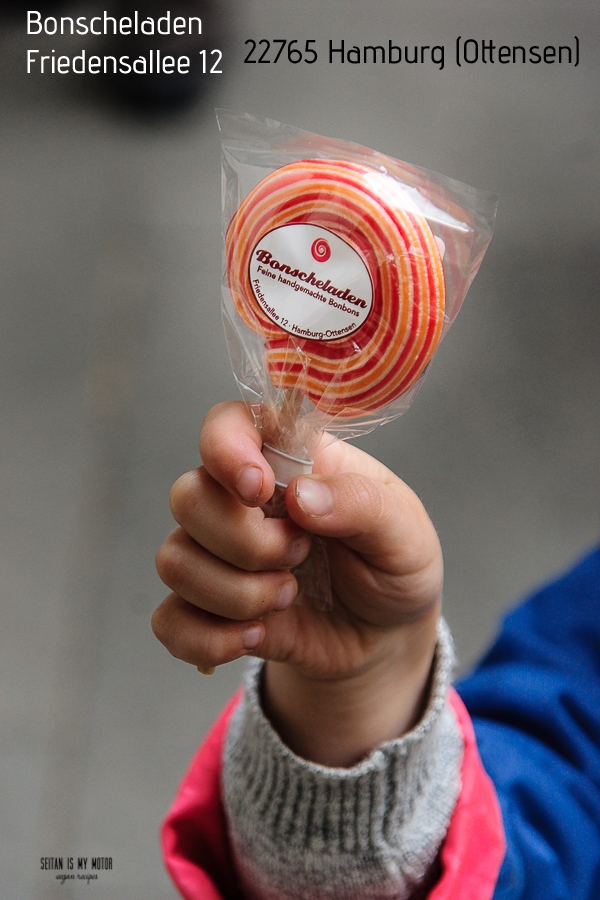 After that we still had room for some sugar. When P was in Hamburg one or two years ago, he already told me about an amazing ice cream store with lots of wonderful vegan options he had found. So  we had to check that out as well. (And yes, our kid had a giant lolly pop and some ice cream on the same day within the same hour. It happens.)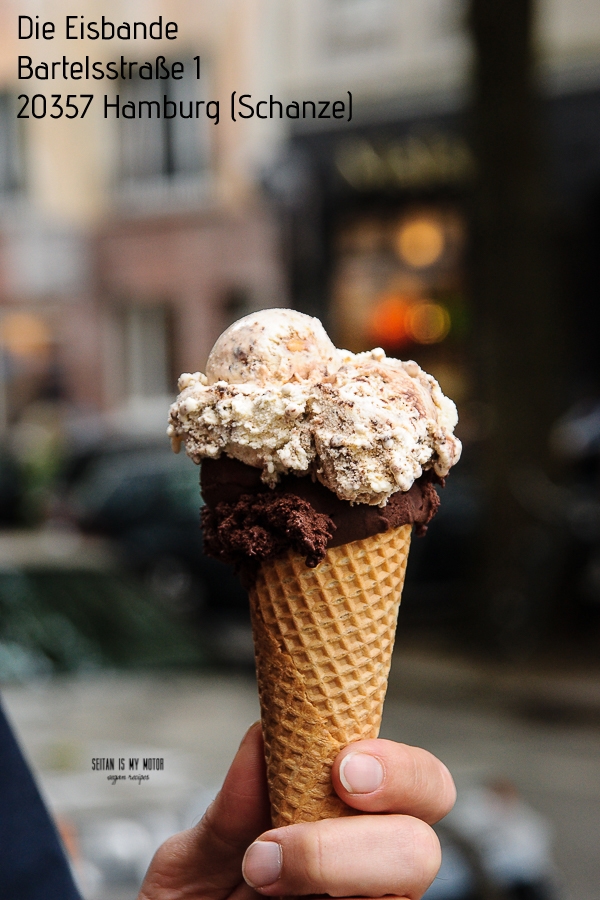 On that day, Eisbande had more vegan options than non-vegan ones and they all looked great. I went with Mousse au Chocolat and Schniggers (Northern German pronunciation/malapropism of Snickers). Both taste and consistency were perfect. I just found the names a bit misleading. The Schniggers version was more like stracciatella with some peanuts, and Mouse au Chocolate must have been made with a ton of cocoa powder instead of chocolate. (This is just my personal pet peeve and not their fault.) I am not saying it was bad, because it really wasn't. Just not what I had expected.
There would have been so much more to explore in Hamburg and now that I know how vegan friendly this city is, I'll definitely come back more often!