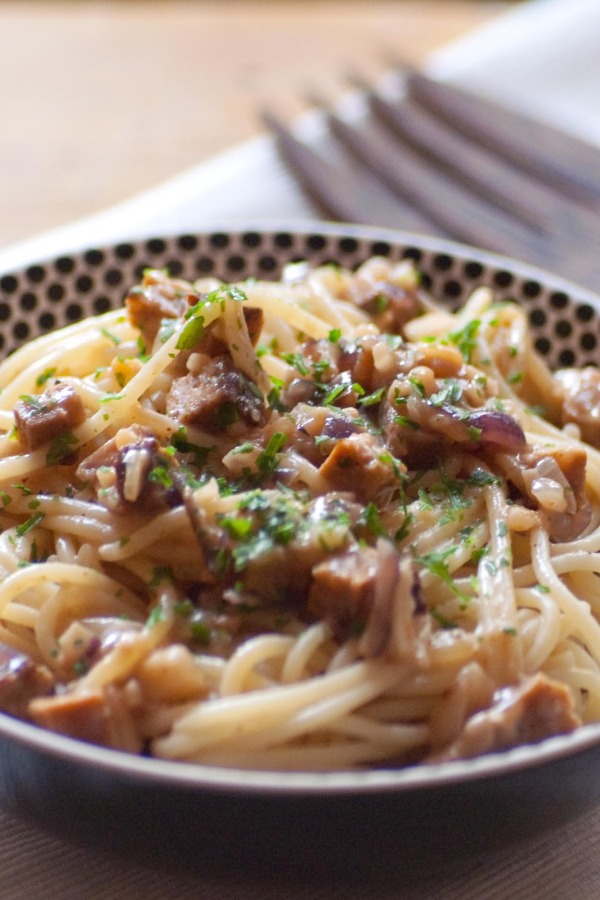 My husband P loves to cook. And he is a good cook. But since I went vegan and started blogging, he rarely dares to enter the kitchen anymore. Sentences like "Wait, I have to take a picture!" or "Did you write everything down? What did you do, which ingredients did you use?" might have scared him. Or it was my weird volunteering :"I'll cook, I have to blog later." When our daughter arrived this all started to change. I gave up my kitchen souvereignity because we decided to share all activities like childcare, cleaning, cooking etc. equally. Don't get me wrong, we already did this before…except for the cooking.
So last time I cried "I am hungry!" P went into the kitchen and made this amazing pasta dish. Since then I begged him several times to make it again and to write down ingredients and method. It took me a lot of begging until I finally got hold of the recipe. As much as P loves cooking he hates writing a recipe down. He just can't do it. Because he's cooking, right? And why on earth do you have to write down a recipe in the first place? Anyway this time I was successful and got him to do it. Now I can share this wonderful bacon pasta with you – without any bacon, of course.
Ps Bacon Pasta (serves 2)
Ingredients
olive oil
2 onions
4 tablespoons non-dairy cream
2 tablespoons nut butter (preferably pistachio)
70 g (2 oz.) vegan salami style sausage (preferably chorizo)
2 teaspoons liquid smoke
1 teaspoon smoked paprika
1/2 teaspoon ground chipotle salt and pepper to taste
160 g (5.6 oz) dry pasta
Dice onions and fry in olive oil. Dice chorizo and add after 3 minutes. Fry 3 more minutes or until the onions are translucent. Use a small bowl to stir together non-dairy cream and nut butter. Add liquid smoke, smoked paprika and chipotle powder. Season with salt and pepper. Add cream mixture to onions and sausage, heat for two minutes and remove from heat. The mixture will thicken a bit. Cook the pasta and reserve 5 tablespoons of cooking liquid. Add the liquid to the sauce, stir and and then add pasta. Combine.