When I write something for this blog there have to be pictures. And believe me, I have lots to choose from. I shoot a dish until it is cold and all the herbs look wilted. But when it comes to publishing, I try to limit these shots to one or two pictures per post. Because who wants to see a picture of the same muffin from all its angles until you have finally made it to the recipe? Well on my blog you usually have to wade through words over words instead of pictures.
The Vegan Wednesday is a great opportunity to publish some more pictures because you don't necessarily have to include a new recipe. Instead the purpose of the Vegan Wednesday is to document the food you ate in one day. And now that the weather is sunny and warm I rather go outside and take a few pictures instead of writing long recipe instructions. (If you wanna join, you can add a link to your post here.)
Last week I wrote that I ate the same breakfast almost every day. And then I changed it. I am really not the person to pull out a pan for breakfast but sometimes I make an exception for tofu scramble. It's quick and you don't have to stand by the pan all the time, so I think it's okay. I made this with tofu, bell peppers, onions, sunflower seeds, soy sauce, salt, and pepper.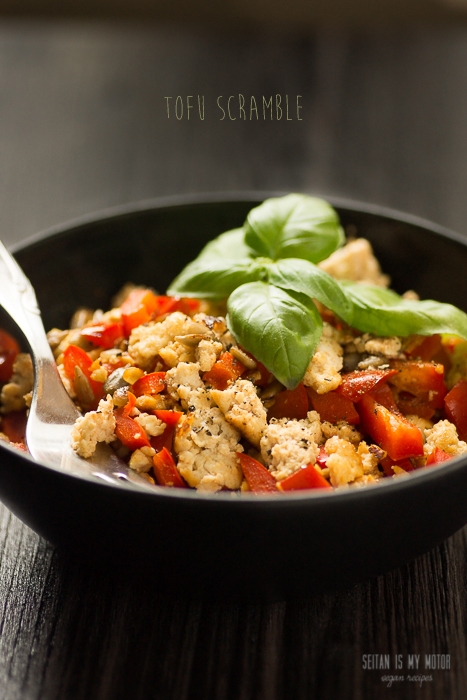 The weather was great and I wanted something bright for lunch. Therefore I made a salad from cooked spelt berries, roasted asparagus, tomatoes, and cucumber. This was great to take to work and we also had some leftovers for the next day. The funny thing is that I bought the asparagus because F insisted we buy it. She was talking about it at the grocery store all the time. And then of course she didn't touch it.
For dinner we had fried bok choy with teriyaki sauce, rice and Dreena's excellent Cumin Lime Tofu, which you can find in the book Eat, Drink, and Be Vegan. It's an older cookbook but still one of my favourites. There are so many simple but still interesting enough recipes in it and many have become staple dishes for us. With this baked tofu recipe you can never go wrong. I usually cut the lime juice a bit and don't use the pumpkin seeds called for, but that are all the changes I make.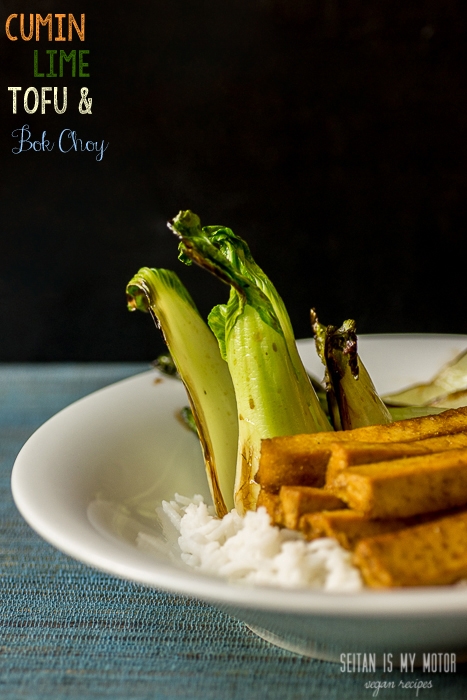 Of course there was some baking, too. I wanted to update my nut bar recipe but I probably made one too many adaptions. They fell apart when I tried to cut them and I didn't like the slightly gritty texture of the topping. But they tasted great! We ate way too many.
Happy Wednesday! What did you eat?