I am not sticking to today's Mofo theme, which is called, "re-create a restaurant meal". Instead I want to write about a meal I ate at a restaurant and want to recommend the restaurant! I cannot or do not want to recreate the meal I am going to talk about. Because I am just glad I can step out of my flat, walk a few steps, get this made for me, enjoy it and just walk away without doing any dishes. The restaurant meal I want to share with you today is a veganised version of the very popular German fast food called döner. (Döner is in fact Turkish. But the German version is different from the Turkish.)
I never had a non-vegan döner in my life and tried my first vegan version a couple of years back at Vöner in Berlin. I admit that like some other things I just tried it to spite those who tell vegans not to eat fake meats. Let me tell you nay sayers, you are missing out. Vegan döner is usually made with seitan that comes on a rotating spit just like the meat version would. It's cut off in thin slices and served with flatbread, vegetables, onions, and tzatziki sauce. The combination of soft, fresh flatbread, tangy sauce and chewy, well seasoned seitan is very, very hard to resist once you've tried it. I was always sad that we didn't have something like this in Dresden. Thankfully this changed last year when a couple of life savers decided to open a new vegan restaurant in our neighbourhood. It's called Dicker Schmidt (Fat Schmidt). Their tagline is "hausgemachte vegane Esskultur", meaning homemade vegan food (or more precise: eating) culture. I always found both this title and the headline absolutely brilliant. In a time where veganism first and foremost seems to be all about healthy aka "clean" eating, weight loss, and complying with today's stereotypical beauty standards (healthy, young, and lean) it's refreshing to see such a concept. At Dicker Schmidt vegan food culture is also equated with fake meats, processed foods, and fats – lot's of things that are not considered a part of so called healthy vegan diets anymore. These things take the center stage and are perfected with homemade marinades and fresh vegetables.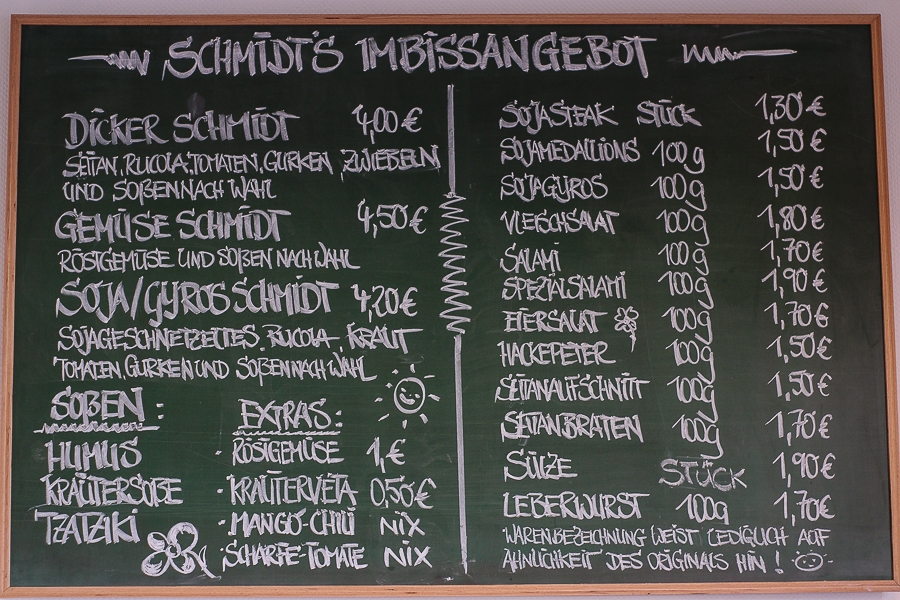 They don't call their signature dish döner, they call it Dicker Schmidt. If you don't like seitan, they have a soy based alternative or you can  get a fake meat free version with roasted vegetables, too. Another pretty asesome thing about this restaurant is their shop counter. Here you can choose from lots of different plant based meats, cold cuts, and spreads to take home. They have vegan liverwurst, salami, egg salad, Hackepeter (the original version is made from raw minced pork), etc. I've seen people roll their eyes and make comments like: "Why do vegans eat this fake crap? They should suck it up and eat real meat instead!" or "I gave up meat. I don't want to replace it!" To which I reply that if you've always been a liverwurst person and told everyone you could never live without liverwurst, here's your chance to go vegan. Foods like these do mimic the flavour of meat products, true. And why not? The only thing you signed up for as a vegan is living without animal products. It's not about sacrifice. You don't have to give up your favourite flavours. And you don't have to feel bad or weird for eating something that looks like meat. It still is not and eating it doesn't make you a less fantastic person. If vegan versions of processed foods make you happy and enjoy veganism then please go for it! Many of them have their own qualities and in the end it's just food. Probably tasty. So why not?
Dicker Schmidt, Rudolf-Leonhard-Straße 32, 01097 Dresden, all days 12 am to 8 pm.