Hat jemand den Eindruck bekommen, dass ich mit einem Zauberstab in der Küche stehe und mir einfach jedes Rezept gelingt? Tja, leider ist dieser Eindruck falsch. Hinter den Kulissen geht oft was schief. Wenn ich es auch manchmal schaffe, etwas aus dem Ärmel zu schütteln, die meisten Rezepte erfordern viel Zeit und Geduld. Wenn es dann einige misslungene Kuchen später klappt, wird ein schönes Foto gemacht und alles sieht perfekt und kinderleicht aus. Eine glatte wenn auch unbeabsichtigte Lüge eigentlich. Aber so ist es ja nicht nur hier auf diesem Blog. So ist es ja mit jedem Projekt, das entsteht. Wenn man wie ich sonst ungefähr ein mal pro Woche ein neues Rezept veröffentlicht, fallen die Fehler und Fehlschläge nicht auf.Da habe ich genug Zeit, etwas zu überdenken und dann zu wiederholen. Während des Vegan Month of Food hat man aber keine Zeit, etwas drei Mal zu backen. Wie diese Ochsenaugen, die total aus der Form geraten sind.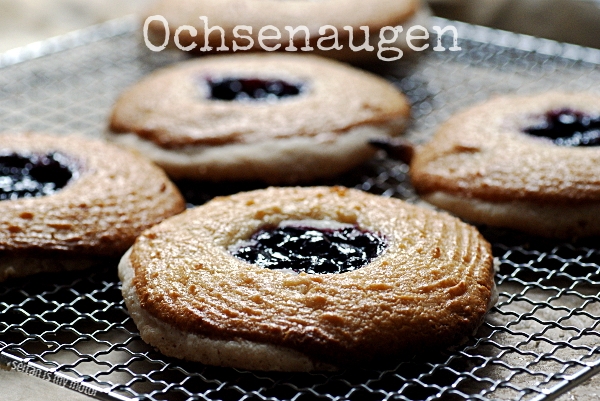 Sie haben unglaublich gut geschmeckt, aber so eine traurige Marzipangarnitur will wahrscheinlich niemand nachbacken. Ein sehr gutes Beispiel dafür, dass das Veganisieren von Rezepten nicht immer so einfach klappt. Oft nimmt man einfach das vegane Äquivalent zu einem Tierprodukt und mogelt sich so durch. Oft gibt es aber gar kein angemessenes Äquivalent. Manchmal muss man daher das ganze Rezept auseinandernehmen und sich genau überlegen, welche Zutaten man wählt und nach welcher Methode man vorgeht.
Ich habe mir vorgenommen, auch in den nächsten Monaten mein Vegan Month of Food Thema weiterzuführen. Da bleibt also genug Zeit, es noch einmal mit den Ochsenaugen zu versuchen.