Hello!
If you're in Europe you have probably heard about a new law called GDPR – The General Data Protection Regulation. I spent the last few days trying to change my blog settings, so they are  up to date with the new law. It's been very difficult for me. I updated my privacy policy, but did not include an English version, because I am in Germany and as well as I might speak English, that stuff clearly showed me my limitations. While I was at it, I tried to update my subscriber lists. And of course I somehow deleted a whole Mailchimp list. (I sent out a confirmation mail. Under the new regulations even old subscribers would have to resubscribe. And most of them didn't. I only wanted to delete those but ended up deleting the whole address book.) But as if that wouldn't have been fun enough. I also updated my theme and didn't think anything about uploading some demo content. Which meant that 17 (!) email alerts were sent to the subscribers of a second list. People who had subscribed to my blog via a plugin here on the site all received emails with subject lines that were mostly about meat and fish. After that I wanted to hide under a rock. I was so embarrassed!

I am deeply sorry this happened and not only did I delete everyone who wished to unsubscribe. I deleted every other contact, too. So now  I hope that non of you received an email alert for this post. Or did you?
I created a new subscription form and if you want to receive email alerts about new blog entries, please resubscribe on the right.  (If you are using a mobile device, you need to scroll to the bottom of the page.) These last few days made me think about blogging in general. Bloggers are all expected to be the professional type and there's not much fun left. I get that privacy policies are important and protecing peoples data is a really good thing. But it's also pretty hard get all that stuff done yourself. I don't really understand how to set up MailChimp, I also don't get a lot of other things and I really don't have the time to make my blog super professional. I am very glad if I get to post and share new recipes with you though. So here we are.
Vegan Toffee Brownies
My  last Brownies were a huge success. But some of my coworkers and readers thought they were too sweet. They told me the recipe could do with half the sugar content. They were right of course! If you don't care about a crackling top, half the sugar will do. Less fat will do, too!  I  cut out some of it and replaced the mayonnaise with silken tofu while still enjoying very rich, moist ant satisfying brownies. I also added some vegan toffees (coconut caramels) and a big serving of vegan smarties. I got both items at a small vegan store here in town, but I am sure you can find them via the internet, too. I hope you enjoy these. Please let me know!
Vegan Toffee Brownies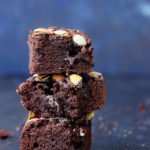 Mihl Hello! If you're in Europe you have probably heard about a new law called GDPR – The General Data Protection Regulation. I…
Print This
Ingredients
30 g cocoa powder
150 ml boiling water
80 ml vegetable oil
50 g melted vegan butter
120 g silken tofu, pureed
½ teaspoon ground vanilla powder
250 g granulated sugar
250 g flour
1/8 teaspoon baking soda
130 g bittersweet chocolate, melted
100 g vegan toffee (coconut caramels)
100 g vegan smarties
Instructions
Preheat oven to 180°C and line a square baking pan (20 x 20 cm) with parchment paper.
Mix cocoa powder with boiling water.
Add oil, butter, tofu and vanilla and mix until well combined.
Stir in the sugar.
Stir in flour and soda until combined. A few lumps are okay.
Fold in the melted chocolate and pour half of the batter into the pan.
Add coconut caramels.
Add remaining batter and sprinkle smarties on top.
Bake for 40 minutes and let cool completely before serving.