This post is also available in:
Deutsch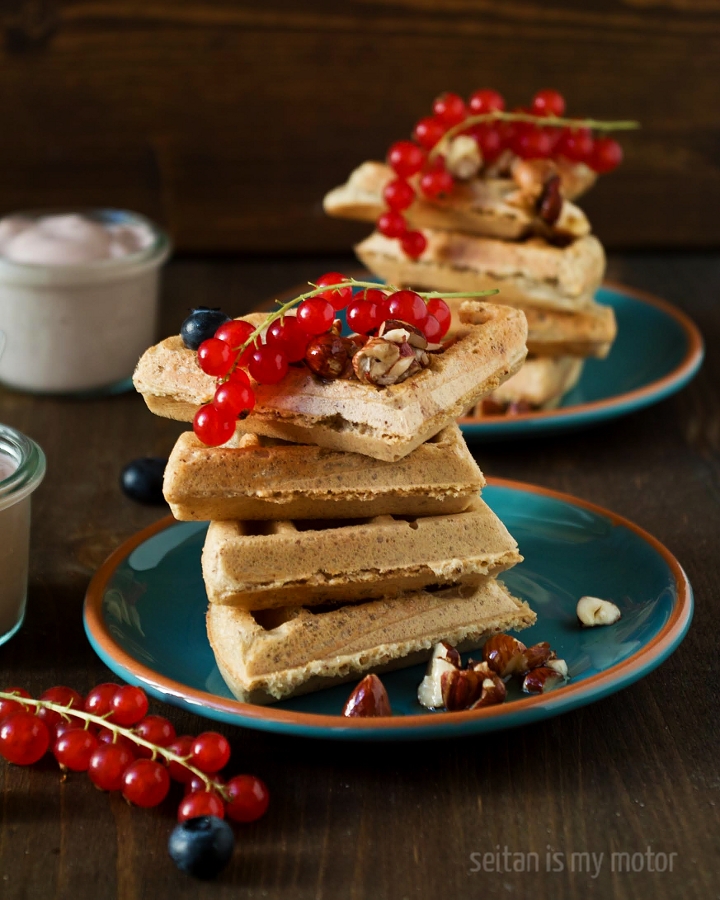 My pantry is filled with quite an amount of gluten-free flours from my last bread baking experiment. I thought about easy gluten-free recipes to use up the flour. And waffles came to my mind. I looked around online for tips on making gluten-free waffles. And of course the most important thing is the equipment. It seems that you need a good quality waffle iron to make gluten-free waffles work. (Figures.)
The waffle iron I had was a hopeless case. It was cheap and I always had to grease it like crazy and still the waffles would stick and tear. Even though I knew it would probably end in a huge fail, I tried to make a batch of gluten-free waffles in that iron. Yeah. That was the end of my patience and my cheap waffle iron. I said good bye and ordered a new one. Not the usual heart shaped kind available in Germany, but a double non-stick round Belgian waffle iron.* This non-stick waffle iron changed everything, probably even my life. I was a waffles-are-okay-person before. Now I am a I-want-to-eat-nothing-but-waffles person. And the best part my waffles finally came out crispy. I mean, look at that picture. (I guess you have all looked at waffle recipes online and their authors claim that they are crispy and then you look at that picture and they look all wobbly. Yeah.)
I made these waffles with a homemade gluten-free flour mix. The recipe is here. It is a hearty flour mix with a pretty strong buckwheat taste. I liked that for these waffles, it went well with the nuts and also with the maple syrup. But of course you can just try these with any flour mix you have on hand. The locust bean gum is optional, but it improves binding. For the flours I went with metric measurements only. If you want to swap out anything it is easier to do this measuring your ingredients by weight. I weigh all my ingredients and look most of the cup measurements up here. If you are not gluten-free and do not have gluten-free flour on hand, I suggest you use all-purpose flour instead. It should work. In that case, you can leave out the locust bean gum. And maybe you have to adjust the liquid.
About the oil: I made regular waffles with less oil, but for this gluten-free recipe the oil really helps making the waffles not stick to the iron. If you want less, you can probably half the amount. Make sure to grease your iron well.
Of course you can freeze these and reheat them in the toaster.
Edited on October 14, 2013: I suggest not to leave out the locust bean gum. It acts as a thickener and without it the batter will be runny and might stick to the iron. If you have to leave it out, you could try to add some more flour to thicken the batter. I do not recommend to substitute xanthan or guar gum.
Gluten-free Nut Waffles (makes 5-6 large round Belgian waffles)
For the waffles:
120 g gluten-free flour
60 g chickpea flour
50 g (1/4 cup) sugar
50 g ground hazelnuts
1 1/2 teaspoon baking powder
1 teaspoon locust bean gum
1/4 teaspoon salt
360 ml (1 1/2 cups) soy milk
60 ml (1/4 cup) oil
For the nut syrup:
4 tablespoons maple syrup
4 tablespoons chopped hazelnuts
To make the waffles: Preheat your waffle iron. Brush with oil, if you don't have a non-stick iron.
Combine the flours, sugar, hazelnuts, baking powder, locust bean gum, and salt. (Make sure to sift the flours, especially the chickpea flour.) Mix well and add remaining ingredients. Whisk to combine.
Pour the batter into your iron and cook each waffle according to the manufacturer's instructions.
To make the syrup: Combine maple syrup and nuts and pour over the waffles. Serve with fresh fruit.
*It's a German brand hardly available internationally. If you still want to know, you can email me.