Vegan marshmallow fluff that you can easily make at home because vegan cuisine is very innovative. Sure, some people might say that if you try to recreate a vegan version of every animal product based food there is, that is not innovative. But it is, because so many people come up with the most mind blowing techniques or very unexpected ingredients to create these "fake" foods. And we must admit that they are often so much more amazing than the "real" thing. Last year a blogger posted a way to make a vegan version of beaten egg whites that works perfectly for all kinds of meringues. And the most fascinating thing is, they used brine from a can of beans or hearts of palm as a base for their recipe. And if you think about it, it makes sense. During the cooking process beans release starches and proteins. These compounds form a stiff and stable foam that rises to the top of the cooking liquid. The brine has starches and proteins, too. If you combine this liquid with sugar, the two ingredients act exactly like and egg white sugar mixture: The protein is turned into a foam and the sugar traps and stabilises the air bubbles.
This is the easiest and most widely available method to make vegan egg white foams and it has been all over the internet for the last couple of weeks. Somebody already came up with a recipe for macarons and meringues have been popping up, too. People are very exited about this invention and trying it out like crazy. It's amazing how innovative, adventurous and creative people have been over the last few weeks. I hopped on this train quite late, I saw a picture on instagram and then a link here and there. I didn't do much research exept for reading that French blog post and I have been experimenting for two days now. I came up with my own versions of meringues and macarons and I plan to share them soon. (I posted a preliminary recipe for the macarons on facebook, but it's not perfect yet.) But since both recipes are a bit tricky, let's start with something foolproof here, that will totally win you over: vegan marshmallow fluff made from chickpea brine. And no, it doesn't taste like beans once you have whipped it up with sugar and vanilla.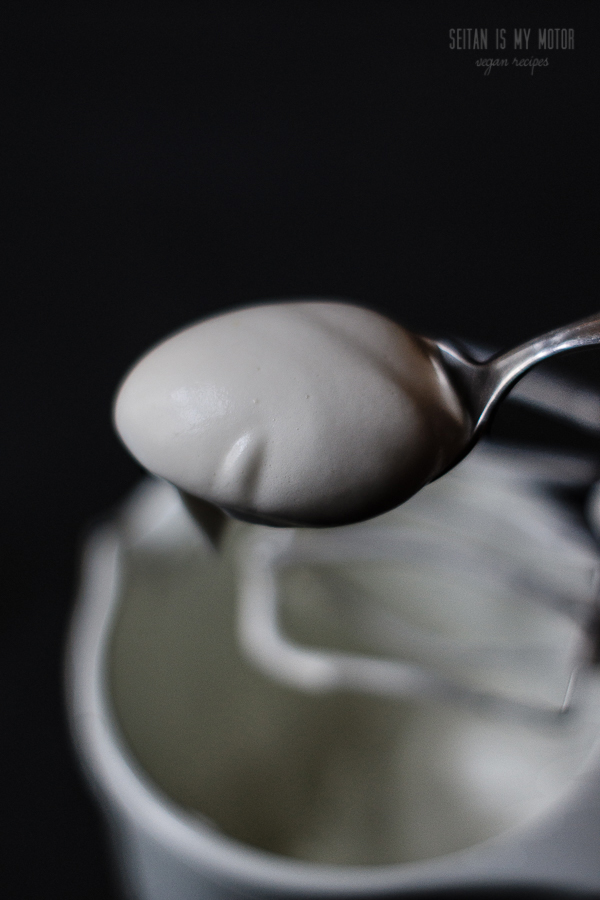 The picture above shows a basic foam, made from chickpea brine drained from a can and and powdered sugar only. I made a first attempt at meringues with this and it didn't work out because the foam was too runny to pipe. Only later I learned that you just need to whip longer. I whipped for about 2 minutes when 10 would have been more appropriate. But impatience is sometimes a good thing. The blogger behind révolution végétale mentions two ingredients that will help stabilise your foam: guar gum and cream of tartar. Cream of tartar is often used in angel food cake and in meringue preparations. It helps to give more volume to regular egg white foams. Guar gum is a binder. Like xanthan gum it is often used in gluten free baking. You can also add it to ice creams to make them smoother. If you've ever worked with guar or xanthan gum you know that if you add too much, it will turn our slimy and gum like. For this recipe, the gum like texture is perfect as the gum will speed up the whipping process and change the texture of your foam greatly once the sugar is added. It changes from soft peaks to stiff peaks in a minute or so. Note that you cannot substitute cornstarch, agar agar, or tapioca starch here. Those have to be heated to swell and bind, while guar gum will swell once it's combined with a liquid. Cornstarch or agar agar will do nothing to change the texture of your foam at this point.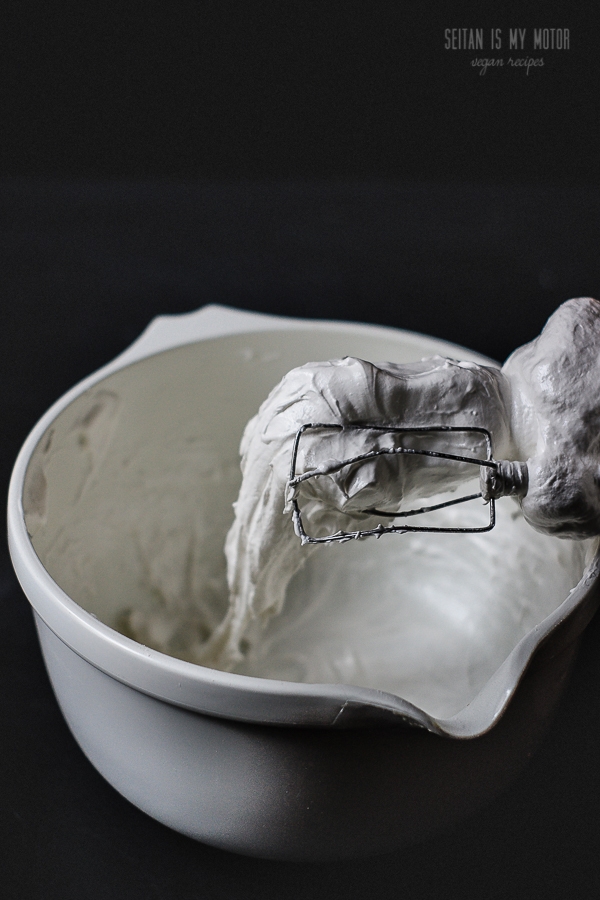 This vegan marshmallow fluff has a very firm but sticky consistency, just like melted marshmallows or marshmallow creme. The only downside:  It will probably creep up your beaters and stick to the mixer. It's ean with a wet cloth, so I personally didn't worry about it. Use  for 'Smore pies, as a cookie filling or try some rice crispy treats. I used it as a base for my meringues, so stay tuned! If you are looking for a more delicate version you can put on top of pies, I suggest to leave out the guar gum and simply whip your foam until you have reached the desired consistency.
Edited: Some people reported they did taste a bean flavour after making this. I didn't but you can add more sugar (double it) to disguise it further.
Thanks for reading this post! If you have questions about the recipe, ingredient substitutions, and so on, please read the comments first. Maybe your question has already been answered.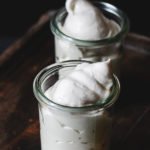 Ingredients
120 ml (1/2 cup) chickpea brine, drained from a can of chickpeas
1/2 tsp guar gum
1/8 tsp cream of tartar
50 g (1/2 cup) powdered sugar
2 teaspoons vanilla
Instructions
Combine brine, guar gum, and cream of tartar in a large bowl.
Beat with a handheld mixer for two minutes, until the mixture resembles lightly beaten egg whites. (See first picture)
Add powdered sugar and vanilla and beat on high for five minutes, until the mixture is stiff and sticky.
Transfer to a jar.