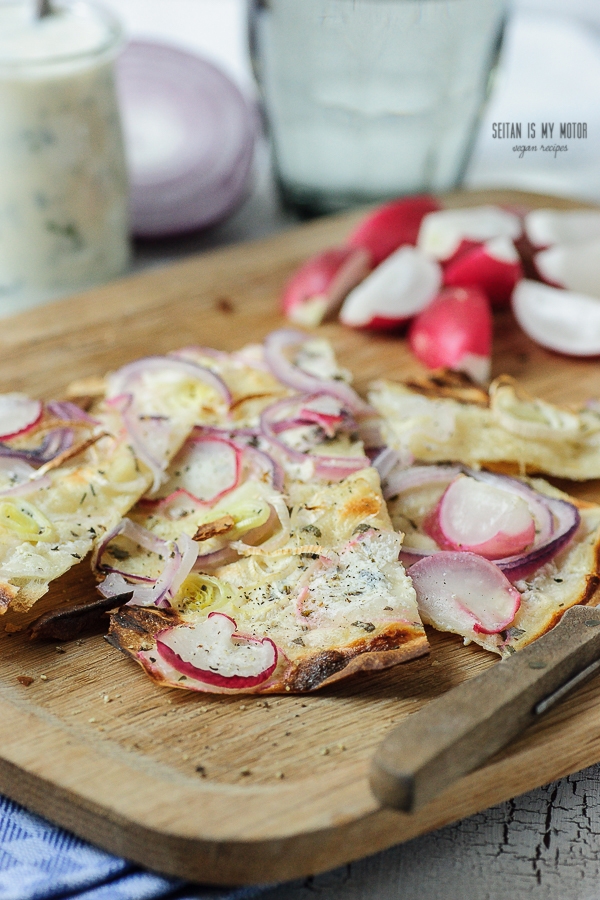 Tarte flambée or flammkuchen, as it is called in German is a dish popular in Alsace, France and in the South of Germany. It's a large topped flatbread that is prepared and served similar to pizza. There are a couple of important differences though.
Traditionally tarte flambée is topped with crème fraîche, onions, and some kind of ham, bacon, or lardon. (I'll never know the correct English term for this.)  The crust has to be rolled out paper thin, you want it to be really crispy. To achieve that the dough is made without any kind of leavening. No yeast and most definitely no baking powder. It's also baked on a very high temperature.
Because of the missing yeast and a high oven temperature the tarte only has to bake for a couple of minutes. The crust itself can be prepared in advance. The dough has to rest but it doesn't need time to rise and it can be stored in the fridge for up to a week or even longer.
For the topping you need very thinly sliced vegetables. Those can be prepared in advance, too. Simply place them in an airtight container and store in the fridge until ready to use. For this version I used red onions, leeks, and radishes.
This is a very nice recipe for a summer evening. You could eat outside and have a nice glass of white wine with this meal. Since you can repare most components in advance it will come together in no time! Time that you can spend chatting with your friends and family. Doesn't that sound just great?
For a more traditional flammkuchen use onions and finely cubed smoked tofu instead. Or try this version with squash and chanterelles that is perfect for autumn.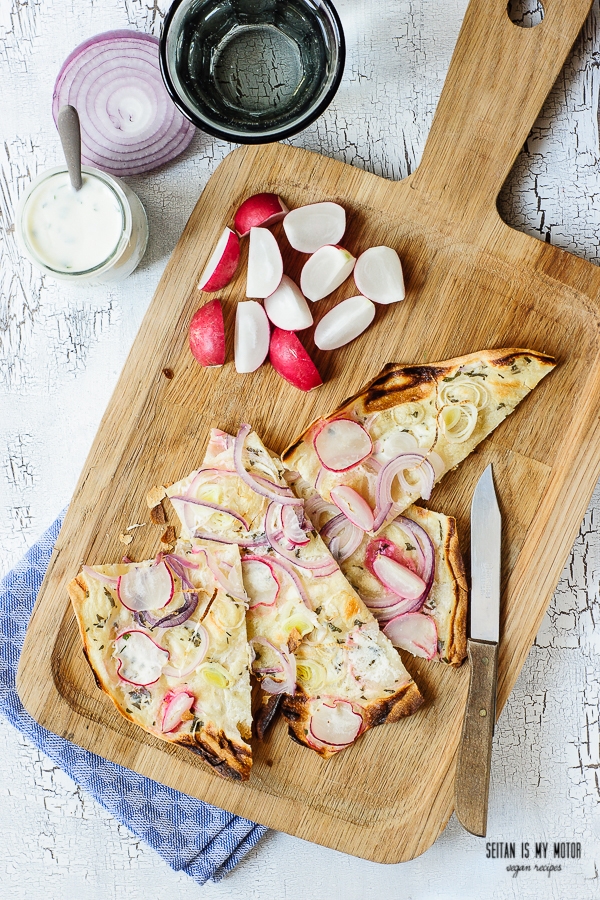 Thin and Crispy Tarte Flambée
Ingredients
250 g (2 cups) all-purpose flour
4 g (1 leveled teaspoon) salt
1 tablespoon unsweetened soy yoghurt
1 tablespoon oil
120 ml (1/2 cup) water
250 g (1 cup) unsweetened soy yoghurt
1 tablespoon finely chopped parsley or chives
1 tablespoon oil
1 teaspoon lemon juice
1/2 teaspoon salt or more, to taste
pepper to taste
1 thinly sliced red onion
the white part of a thinly sliced leek
a couple of thinly sliced radishes
Instructions
To make the dough, combine flour and salt.
Add remaining ingredients and knead until the dough is firm and elastic, about 10 minutes.
Cover and let the dough rest for 30 minutes, or refrigerate until ready to use.
To make the crème fraîche, place all ingredients in a bowl and stir until combined.
To make the flammkuchen, place a baking sheet in the oven and preheat the oven to 250°C (480°F).
Divide the dough into four equally sized pieces and place each piece on a sheet of parchment paper.
Roll out as thin as possible. Let the dough rest and relax for a minute or two from time to time, so that rolling is easier.
Thinly spread with crème fraîche and top with vegetables.
Carefully remove the hot baking sheet from the oven and slide the sheet of parchment paper with the flammkuchen on the baking sheet.
Bake for about 8-10 minutes or until the edges are crispy.
Repeat with the other three pieces of dough and serve immediately.
https://www.seitanismymotor.com/2015/09/thin-and-crispy-tarte-flambee/
Copyright ©2007-2020. All rights reserved. www.seitanismymotor.com